by William Faulkner | Grades 11-12 | Lexile Level: 870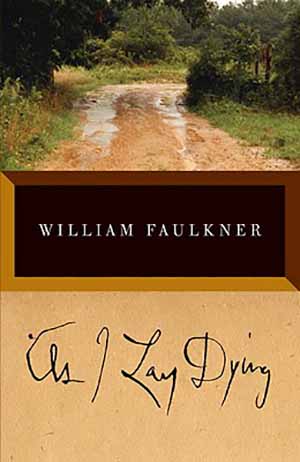 About As I Lay Dying by William Faulkner
As I Lay Dying is Faulkner's harrowing account of the Bundren family's odyssey across the Mississippi countryside to bury Addie, their wife and mother. Told in turns by each of the family members--including Addie herself--the novel ranges in mood from dark comedy to the deepest pathos.
"I set out deliberately to write a tour-de-force. Before I ever put pen to paper and set down the first word I knew what the last word would be and almost where the last period would fall." —William Faulkner on As I Lay Dying
As I Lay Dying is a 1930 novel, in the genre of Southern Gothic, by American author William Faulkner. Faulkner said that he wrote the novel from midnight to 4:00 AM over the course of six weeks and that he did not change a word of it. Faulkner wrote it while working at a power plant, published it in 1930, and described it as a "tour de force." Faulkner's fifth novel, it is consistently ranked among the best novels of 20th-century literature. The title derives from Book XI of Homer's Odyssey, wherein Agamemnon tells Odysseus: "As I lay dying, the woman with the dog's eyes would not close my eyes as I descended into Hades."
The novel utilizes stream of consciousness writing technique, multiple narrators, and varying chapter lengths.
Biographical Notes About William Faulkner
William Cuthbert Faulkner was born in 1897 and raised in Oxford, Mississippi, where he spent most of his life. One of the towering figures of American literature, he is the author of The Sound and the Fury, Absalom, Absalom!, and As I Lay Dying, among many other remarkable books. Faulkner was awarded the Nobel Prize in 1950 and France's Legion of Honor in 1951. He died in 1962.
Available Teacher Guides, Lesson Plans, & More For As I Lay Dying: