Posted by Mary Collins on Jan 3rd 2019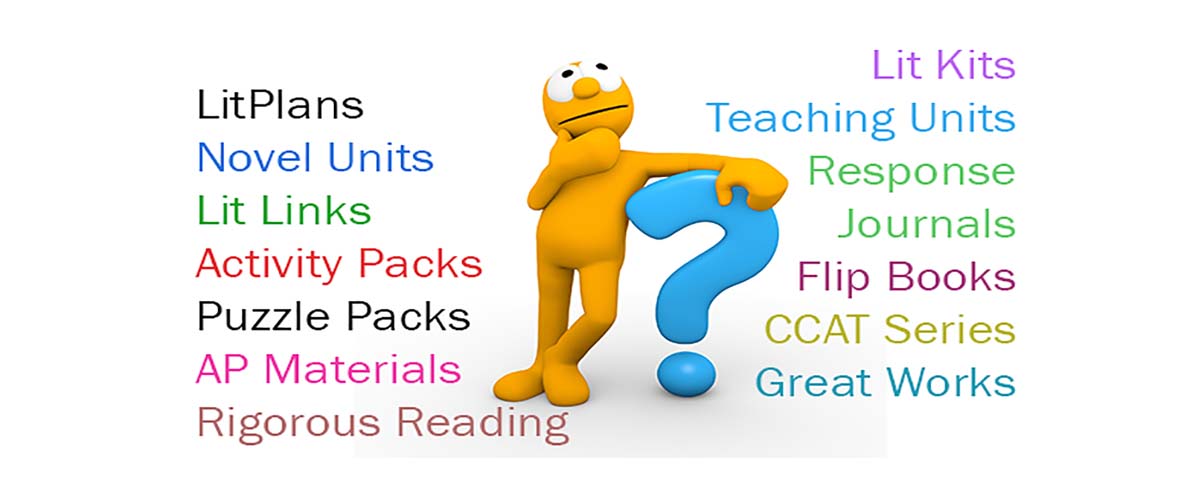 We have a lot of teaching guide choices for some of the most popular titles. Deciding which one is best for you can be challenging. Here's a little summary about the products, that might help you:
I Need A Whole Novel Unit
LitPlans are the best choice for this need. They include a foundation of materials with daily lessons completely planned. Our Combo Packs give you a wide range of materials, including the LitPlans, our Puzzle Packs with review games & worksheets, and our Q&A Presentations which provide a visual aide for discussing book-related questions.
I Only Need Some Supplemental Materials To Go With My Own Novel Unit
Novel Unit Teacher Guides or Student Packs are a good choice for this need. Lit Links and Lit Kits are also good choices!
I Teach AP Classes And Need Some Materials To Address Those Needs
The Prestwick House AP Literature Units are your best bet. The questions are formatted like the AP Exam and they cover the appropriate kinds of materials.
I'd Like To Take A Different Approach To My Literature Unit, And Stress Critical Thinking
We'd recommend Multiple Critical Perspectives, DramaWorks Guides, or the Common Core Approach to Teaching Literature series.
I Need A Really Good Skeleton For My Own Novel Unit
The Prestwick House Teaching Units provide excellent study questions, some great discussion questions, vocabulary words & definitions, and a unit test--great bones to build your own unit around!
I Need Something Visual To Go Along With My Novel Unit, Like A Slide Presentation
Our Q&A Presentations are great for discussion question visuals, and Power Presentations are great for giving students additional information about popular books, elements of fiction, and more!
I Have A Good Unit, But I'd Like Some More Really Good Activities
Great Works Guides from Shell Education, Prestwick House's Activity Packs, and Teacher Created Resources guides have what you need.
I Need Something A Substitute Teacher Could Use For A Few Days Or A Short Something To Fill A Couple Of Days
We have you covered with Prestwick House's Instant Short Story Packs
I'm Looking For Things For My Students To Write About, Related To The Novel
Reader Response Journals are the solution!
How About Something Fun And Useful?
Try novel Flip Books!
I Have Spanish-Speaking Students Who Are Having A Hard Time Keeping Up In My Novel Unit
Our Dual Language Packs will keep your ELLs on pace with the rest of the class!
I Have To Cover The Common Core Standard Related To Comparing The Book To The Movie
Movie Version Guides are just exactly what you need.
We've Read The Whole Book; I Need Some Great And Fun Review Games, Activities, And Worksheets!
Our Puzzle Packs are fantastic for this!
Really, All I Need Is A Good End-of-Book Test
Check out our Literature Unit Tests and Novel Units' Standards-Based End-of-Book Tests
What Do You Have That Will Help My Students With Reading Comprehension?
The Reading Informational Texts series is excellent for non-fiction reading, and the Rigorous Reading guides are good for fiction. LitPlans also really hammer at reading comprehension from a variety of angles.
As always, if you have questions about what to get, don't hesitate to come onto chat or contact us!